Join the list! To Join the Provo Linux Users Group mail list... send e-mail to pluglist-request@plug.org with the word subscribe in the body of the message.
To send a message to everyone on the list, send mail to pluglist@plug.org
Meetings are held the second Wednesday of the month at the CEDO building in Orem, starting at 7:30. Located between the SCERA theater, and the maverick station on state street. Anyone is welcome, and feel free to bring computers and questions.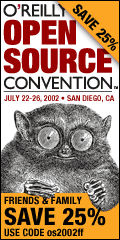 | | | |
| --- | --- | --- |
| | Building Linux Virtual Private Networks (VPNs) | |
posted by jayce on Thursday April 18, @11:39PM
from the what-book-helps-with-that. dept.

jeff writes "Author: Oleg Kolesnikov & Bri Hatch
Publisher: New Riders
ISBN: 1-57870-266-6

An excelent book! My intention for reading this book is that at work we people who are out on the road who need access to information on our network. A VPN seemed like the solution.

This book contains a lot of details about many different ways of creating VPNs. Unlike many books the introduction chapter is a must read. It discusses issues that must be planned for when building a VPN. It also has a short intro of many different protocols. This contains enough information to make decisions about which software is most appropriate for your needs.

Chapters for different VPNs follow. I read the one that applied to my choice (IPSec). It contains detailed explainations on how IPSec works. The book is not a HOWTO, they are available on line. URLs are provided.

The only thing I was a little disapointed that it didn't tell how to interact with Win2k/WinXP systems.

I recommend it to anyone thinking about setting up a VPN.
"
<  April Meeting | Open Source Convention  >